GELATO & ICE CREAM INGREDIENTS > GELATO MILK BASE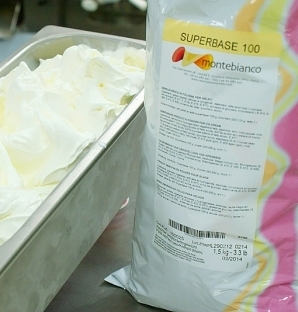 Product Code: 160025-SUPERBASE 100

Price per pack: 75AED /-
Quantity : 1.5 Kg

Dosage Grs / Process : 100-Hot
160025-SUPERBASE 100
Super premium base for milk flavor and fruit flavor (Sherbet) for Gelato or Ice-cream
Advantage
Mixed with 7 different kinds of premium Stabilizer and Emulsifiers from Italy
Can give the best quality of Gelato or Ice-Cream, amazing texture, smoothie, with less ice-crystall.
Warm and creamy taste
Create more different flavors from the paste by add any of the Montebianco flavor pastes to make delicious gelato such as pistacchio, hazelnut, chocolate etc.
Melt much less with hydrogenate fats
The dosage 75 gr of SUPERBASE for 1 liter of gelato mixes
Create your Gelato 95% fats free!
Related Product
No, Related Products Here.
Welcome to Special Gourmet International
Special Gourmet International Gen. Trd LLC is a professional distributor of Food Stuff and Hotel and Catering Kitchen Equipment for renowned European brands in the hospitality industry. Our products are mainly classified under 3 categories:
1] HOTEL & RESTAURANT KITCHEN, PASTRY & BAKERY EQUIPMENT SUPPLIES
2] FOOD INGREDIENT (F&B
3] CONCEPT SMALL BUSINESS SUPPORT
Welcome to a World of Excellence!
Only the finest ingredients for your delicate creations…
Whether you are a Chocolatier, a Confectioner, a Baker or a Pastry Chef;

Whether you work in Dairy, Ice-Cream & Desserts, Sugar & Chocolate Confectionary, Biscuit & Bakery, Breakfast & Snacking;


You can do more with our Chocolate, Fillings & Cocoa related
products, our Pastry & Bakery ingredients, our Decoration &
Accessories, and our specialized Machinery.