GELATO & ICE CREAM INGREDIENTS > GELATO FRUIT BASES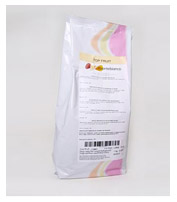 Product Code: 119661-TOP FRUIT

Price per pack: 49AED /-
Quantity : 1 Kg

Dosage Grs / Process : 50-Cold
119661-TOP FRUIT
Without milk proteins it exalts fresh fruit's features - Perfect for cold processing
For those who are lactose intolerant or simply prefer a lighter mouthfeel; fruit sorbets and even chocolate sorbet is so good and so easy to make with Montebianco's Top Fruit Base. Easy to make fruit gelato or sorbet (water based) recipe by adding any Montebianco Doppio Frutta flavor. For a cremier fruit gelato/ice cream without milk.
Ingredients: dextrose, dried glucose syrup, stabilizers (E 410 locust bean gum, E464 hydroxypropyl methil cellulose, E412 guar gum, E415 xanthan gum, E407 carrageenan), emulsifier ( E471 mono-diglycerides of fatty acids)
Related Product
No, Related Products Here.
Welcome to Special Gourmet International
Special Gourmet International Gen. Trd LLC is a professional distributor of Food Stuff and Hotel and Catering Kitchen Equipment for renowned European brands in the hospitality industry. Our products are mainly classified under 3 categories:
1] HOTEL & RESTAURANT KITCHEN, PASTRY & BAKERY EQUIPMENT SUPPLIES
2] FOOD INGREDIENT (F&B
3] CONCEPT SMALL BUSINESS SUPPORT
Welcome to a World of Excellence!
Only the finest ingredients for your delicate creations…
Whether you are a Chocolatier, a Confectioner, a Baker or a Pastry Chef;

Whether you work in Dairy, Ice-Cream & Desserts, Sugar & Chocolate Confectionary, Biscuit & Bakery, Breakfast & Snacking;


You can do more with our Chocolate, Fillings & Cocoa related
products, our Pastry & Bakery ingredients, our Decoration &
Accessories, and our specialized Machinery.