MACHINES & EQUIPMENT > WAFFLE & CREPE MAKER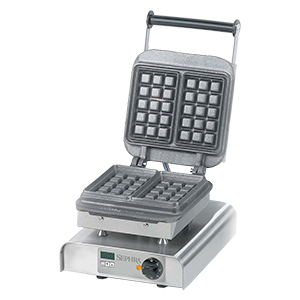 Product Code: Sephra Brussels Waffle Baker

Price per pack: 4450AED /-
Quantity : ( 1 Pc) 22 kg

Production Kg / Hour : 120 Pcs/Hour
Cycle Capacity / Kg :
Sephra Brussels Waffle Baker

The original waffle shape - the Brussels Waffle Maker is a real eye-catcher for any commercial business. Creating two waffles every minute, supported by the flavour and smell of freshly baked waffles, it is a real crowd pleaser.

Children especially love these sweet snacks on a stick. Whether served with sugar, dipped in chocolate or caramel, they are a real treat.

Makes 2 waffles - (Dimensions - 10 x 2.8 x 17 cm)
Stainless Steel Casing
Uncoated cast iron plates
CE, ROHS CERTIFIED
WEEE DE61709673
Makes 2 Waffles on a Stick
Thermostat 50-300ºC
230 V / 2,2 kw
Digital Timer Pilot Light

Related Product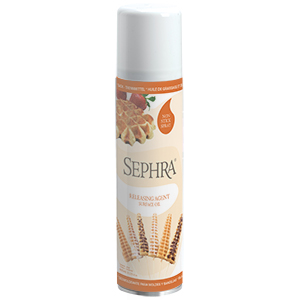 Price per pack: 72 AED/-
Quantity : ( 1x 600ml Pc) 1.5 Kg

Production Kg / Hour :
Cycle Capacity / Kg :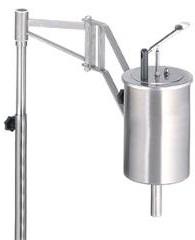 Price per pack: 4320 AED/-
Quantity : ( 1 Pc) 18 kg

Production Kg / Hour :
Cycle Capacity / Kg :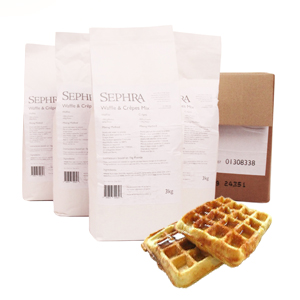 Price per pack: 290 AED/-
Quantity : ( 4x 3Kg bags Pc) 12 Kg

Production Kg / Hour :
Cycle Capacity / Kg : 330
Welcome to Special Gourmet International
Special Gourmet International Gen. Trd LLC is a professional distributor of Food Stuff and Hotel and Catering Kitchen Equipment for renowned European brands in the hospitality industry. Our products are mainly classified under 3 categories:
1] HOTEL & RESTAURANT KITCHEN, PASTRY & BAKERY EQUIPMENT SUPPLIES
2] FOOD INGREDIENT (F&B
3] CONCEPT SMALL BUSINESS SUPPORT
Welcome to a World of Excellence!
Only the finest ingredients for your delicate creations…
Whether you are a Chocolatier, a Confectioner, a Baker or a Pastry Chef;

Whether you work in Dairy, Ice-Cream & Desserts, Sugar & Chocolate Confectionary, Biscuit & Bakery, Breakfast & Snacking;


You can do more with our Chocolate, Fillings & Cocoa related
products, our Pastry & Bakery ingredients, our Decoration &
Accessories, and our specialized Machinery.