MACHINES & EQUIPMENT > ROTOR OVENS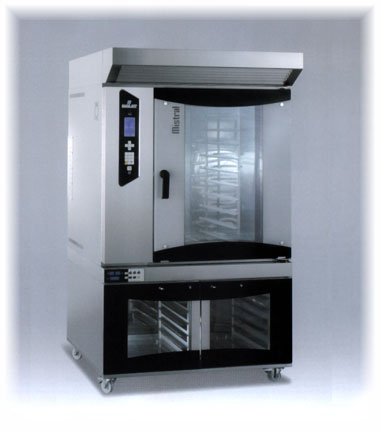 Product Code: Rotorbake 82580935and947477115

Price per pack: 55000AED /-
Quantity : 350

Production Kg / Hour :
Cycle Capacity / Kg :
E2 - T10 Electric Rotor Oven and Rack for 10T 40x60 S/Steel with Proover
Innovative Conception

Many years' experience of fanned ovens have enabled Bake Off to create a new generation of rotating ovens that exploit the advantages of both types of design and operation, combining the simplicity of fanned baking with the baking performance of a rotating oven.


Compactness

The entire RotorBake series has highly compact dimensions thanks to the air supply from heat generators that are in direct contact with the baking chamber.

Both space and heat exchange are thus optimised so that little energy is consumed. Exploiting the closeness between the source of heat and the food has made it possible to reduce wasted energy and therefore consumption to a minimum. This has reduced prices and maintenance costs for the entire RotorBake range. Maintenance costs have been further reduced by the design that ensures easy and immediate access to all basic parts in order to simplify servicing and maintenance tasks.

All the ovens of the RotorBake series are available either in the hook-on, automatic lift-up or platform versions.

• Double steamer
• Double glass
• Stainless steel seals
• Control panel lock
• Instruments
• Lights inside oven
• Door swich
• Explosion vent
• Flue
• Control panel
• Reducer motor
• Steam extraction
• Extractor hood
• Water solenoid valve
• Fan motors


Details
Capacity: 10 T 40x60
Voltage: 1N/400 V ~ 3N
Frequency: 50 Hz/60 Hz
Power: 20 KW
Maximum temperature: 300A533;
Dimensions: 115 L x 120 P x 109 H cm
Weight: 350 Kg
Related Product
No, Related Products Here.
Welcome to Special Gourmet International
Special Gourmet International Gen. Trd LLC is a professional distributor of Food Stuff and Hotel and Catering Kitchen Equipment for renowned European brands in the hospitality industry. Our products are mainly classified under 3 categories:
1] HOTEL & RESTAURANT KITCHEN, PASTRY & BAKERY EQUIPMENT SUPPLIES
2] FOOD INGREDIENT (F&B
3] CONCEPT SMALL BUSINESS SUPPORT
Welcome to a World of Excellence!
Only the finest ingredients for your delicate creations…
Whether you are a Chocolatier, a Confectioner, a Baker or a Pastry Chef;

Whether you work in Dairy, Ice-Cream & Desserts, Sugar & Chocolate Confectionary, Biscuit & Bakery, Breakfast & Snacking;


You can do more with our Chocolate, Fillings & Cocoa related
products, our Pastry & Bakery ingredients, our Decoration &
Accessories, and our specialized Machinery.