MACHINES & EQUIPMENT > CHOCOLATE MACHINES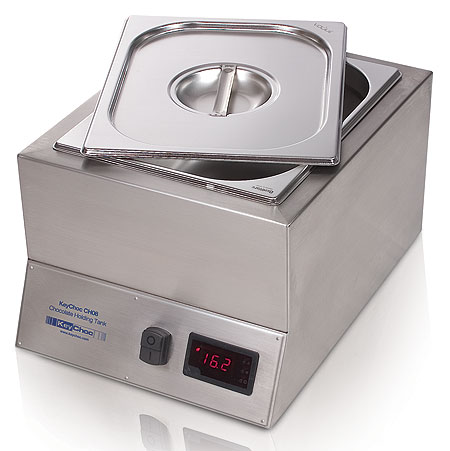 Product Code: CH08

Price per pack: 2000AED /-
Quantity : ( 1 Pc) 8 Kg

Production Kg / Hour :
Cycle Capacity / Kg :
8kg Capacity Chocolate Holding Tank
Having been associated with leading manufacturers and brands such as Pomati & Keychoc UK, Special Gourmet International Gen. Trd LLC brings forth a highly efficient range of Chocolate Machines. The list of our specially designed Chocolate Machine includes the likes of Keychoc Ch08 Chocolate Holding Tank that has stainless steel body and features completely automatic mechanism. The machine is specially designed to prepare a variety of chocolate dishes. It is a user-friendly machine that can be operated by almost anyone. Other Chocolate Machines offered by us are also specially fabricated keeping in mind the ease and comfort of users while making the special dishes.
Technical Specification
8kg capacity
Air heated
250W heater
Single phase, 220-240V
Body 304 grade stainless steel
Vats 316 grade stainless steel
Dimensions: (L) 410mm x (W) 295mm x (H) 230mm
Vats/lids sold separately
Related Product
No, Related Products Here.
Welcome to Special Gourmet International
Special Gourmet International Gen. Trd LLC is a professional distributor of Food Stuff and Hotel and Catering Kitchen Equipment for renowned European brands in the hospitality industry. Our products are mainly classified under 3 categories:
1] HOTEL & RESTAURANT KITCHEN, PASTRY & BAKERY EQUIPMENT SUPPLIES
2] FOOD INGREDIENT (F&B
3] CONCEPT SMALL BUSINESS SUPPORT
Welcome to a World of Excellence!
Only the finest ingredients for your delicate creations…
Whether you are a Chocolatier, a Confectioner, a Baker or a Pastry Chef;

Whether you work in Dairy, Ice-Cream & Desserts, Sugar & Chocolate Confectionary, Biscuit & Bakery, Breakfast & Snacking;


You can do more with our Chocolate, Fillings & Cocoa related
products, our Pastry & Bakery ingredients, our Decoration &
Accessories, and our specialized Machinery.