MACHINES & EQUIPMENT > CHOCOLATE MACHINES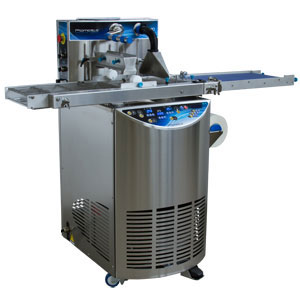 Product Code: Pomati 20

Price per pack: 110000AED /-
Quantity : ( 1 Pc)

Production Kg / Hour : 60Kg
Cycle Capacity / Kg :
Pomati T20 Tempering Machine Specifications Tank: 24 KG Vibrating Table ENROBING CONVEYOR TABLE
Special Gourmet International Gen. Trd LLC is the name to trust in for all those looking for Italian Chocolate Tempering Machines in Dubai. We are renowned for bringing forth the latest range of Batch Temperer and Vibrating Table in Dubai. We offer state-of-the-art, Italian-made Chocolate Tempering Machine (Pomati T20 Tempering Machine). The machine is designed utilizing decades of experience combined with the best technology. Chocolate comes out with an amazing shine and thin shell for incredible truffles, bars, and snacks. The Chocolate Tempering Machine comprises of attachment for enrobing. Talking about the Batch Temperers, they come with programmable pedal to control the discharge of chocolate. Likewise, Vibrating Table can be purchased in standard size from us.
Cleaning:
The Chocolate Tempering Machine can easily be cleaned by the users. All that is required is to simply remove the back to discharge chocolate. Once the machine is emptied, it can be cleaned in no more than 10 minutes.
Highlights Of Our Chocolate Tempering Machines:

Completely AISI 304 stainless structure
Tank capacity: 24 KG
Programmable pedal doser
Heated chocolate tank with thermostat
Double heated circuit tank and archimedean screw
Backflow valve to discharge chocolate
Removable archimedean screw for cleaning and changeover of chocolate
High precision thermostat
Refrigeration unit with air cooling system
Heated vibrating table
220V / 60 HZ / 3 phase
Dimensions (in mm): 560 (with table: 880) x 760 x 1330 (h)
Related Product
No, Related Products Here.
Welcome to Special Gourmet International
Special Gourmet International Gen. Trd LLC is a professional distributor of Food Stuff and Hotel and Catering Kitchen Equipment for renowned European brands in the hospitality industry. Our products are mainly classified under 3 categories:
1] HOTEL & RESTAURANT KITCHEN, PASTRY & BAKERY EQUIPMENT SUPPLIES
2] FOOD INGREDIENT (F&B
3] CONCEPT SMALL BUSINESS SUPPORT
Welcome to a World of Excellence!
Only the finest ingredients for your delicate creations…
Whether you are a Chocolatier, a Confectioner, a Baker or a Pastry Chef;

Whether you work in Dairy, Ice-Cream & Desserts, Sugar & Chocolate Confectionary, Biscuit & Bakery, Breakfast & Snacking;


You can do more with our Chocolate, Fillings & Cocoa related
products, our Pastry & Bakery ingredients, our Decoration &
Accessories, and our specialized Machinery.