GELATO & ICE CREAM INGREDIENTS > CLASSIC PASTES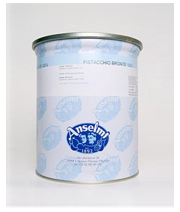 Product Code: AN201063-PASTE 100% PISTACCHI

Price per pack: 750AED /-
Quantity : 3 KG

Dosage Grs / Process : 80/100-Cold
PASTE 100% PISTACCHIO GREEN OF BRONTE DOP
Made with the finest quality pistachio 100%
Milk based gelato/ice cream flavor. Made with the finest quality pistachios from the Bronte region in Sicily.
Use as a flavor in ANY cold process application: gelato, ice cream, whipped cream, butter cream and mousses.
Ingredients: 100% Sicilian pistachios
Related Product
No, Related Products Here.
Welcome to Special Gourmet International
Special Gourmet International Gen. Trd LLC is a professional distributor of Food Stuff and Hotel and Catering Kitchen Equipment for renowned European brands in the hospitality industry. Our products are mainly classified under 3 categories:
1] HOTEL & RESTAURANT KITCHEN, PASTRY & BAKERY EQUIPMENT SUPPLIES
2] FOOD INGREDIENT (F&B
3] CONCEPT SMALL BUSINESS SUPPORT
Welcome to a World of Excellence!
Only the finest ingredients for your delicate creations…
Whether you are a Chocolatier, a Confectioner, a Baker or a Pastry Chef;

Whether you work in Dairy, Ice-Cream & Desserts, Sugar & Chocolate Confectionary, Biscuit & Bakery, Breakfast & Snacking;


You can do more with our Chocolate, Fillings & Cocoa related
products, our Pastry & Bakery ingredients, our Decoration &
Accessories, and our specialized Machinery.