MACHINES & EQUIPMENT > CHOCOLATE MACHINES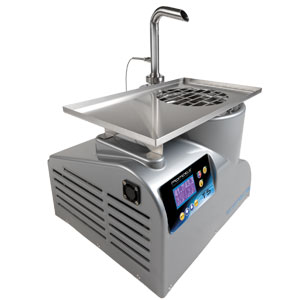 Product Code: T5 POMATI

Price per pack: 18000AED /-
Quantity :

Production Kg / Hour :
Cycle Capacity / Kg : 5
POMATI T5 Table Top Choco Temp Machine
Table Top Choco Temp Machine 5Kg
Technical Characteristics
• Tank capacity Kg 5
• heated chocolate tank with thermostat
• Double heating circuit tank and Archimedean screw
• Programmable on/off
• Removable Archimedean screw for cleaning and change chocolate
• Backflow to discharge the chocolate
• Temperature control thermostat high precision
• Refrigerating unit with air cooling system
• Volt 240 – Hz 50 – KW 0,4 Single phase
• Dimensions mm 480x 450 x h 390
Related Product
No, Related Products Here.
Welcome to Special Gourmet International
Special Gourmet International Gen. Trd LLC is a professional distributor of Food Stuff and Hotel and Catering Kitchen Equipment for renowned European brands in the hospitality industry. Our products are mainly classified under 3 categories:
1] HOTEL & RESTAURANT KITCHEN, PASTRY & BAKERY EQUIPMENT SUPPLIES
2] FOOD INGREDIENT (F&B
3] CONCEPT SMALL BUSINESS SUPPORT
Welcome to a World of Excellence!
Only the finest ingredients for your delicate creations…
Whether you are a Chocolatier, a Confectioner, a Baker or a Pastry Chef;

Whether you work in Dairy, Ice-Cream & Desserts, Sugar & Chocolate Confectionary, Biscuit & Bakery, Breakfast & Snacking;


You can do more with our Chocolate, Fillings & Cocoa related
products, our Pastry & Bakery ingredients, our Decoration &
Accessories, and our specialized Machinery.