MACHINES & EQUIPMENT > SOFT ICE CREAM MACHINES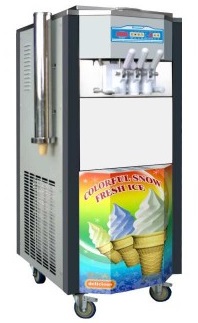 Product Code: OP138C

Price per pack: 16000AED /-
Quantity : ( 1 Pc)

Production Kg / Hour :
Cycle Capacity / Kg :
OP138C FLOOR STANDING 2 FLAVOURS PLUS MIX
Model No. OP138C HEAVY DUTY
Specifications:
Voltage: 220V 50/60Hz 1Ph
Power: 2500W
Compressor-cylinder: 1100w/1.5HP
ACC/Asp era
Compressor-hopper: 150w
Capacity :38Liters/Hour 300 cones/hour
Mix Hopper :12Liter(12.72 Quart)*2
Cylinder :1.6Liters(1.7 Quart)*2
Condenser :Air cooled
Refrigerant: R404A,R134A
Dimension: 735*555*1335mm
Packing Dimension: 880*720*1560mm
Net Weight/G.W.:165kg/220kg
Characteristics:
1. User-friendly micro-processor control interface with LED digital display
2. Auto-operation, auto-ice creaming and auto-cleaning
3. Professional control system
4. Freezing cylinder prevent and protection
5. Low mix indicator
6. Ice cream counter
7. Patent designed beater with stainless steel roller and POM material
Related Product
No, Related Products Here.
Welcome to Special Gourmet International
Special Gourmet International Gen. Trd LLC is a professional distributor of Food Stuff and Hotel and Catering Kitchen Equipment for renowned European brands in the hospitality industry. Our products are mainly classified under 3 categories:
1] HOTEL & RESTAURANT KITCHEN, PASTRY & BAKERY EQUIPMENT SUPPLIES
2] FOOD INGREDIENT (F&B
3] CONCEPT SMALL BUSINESS SUPPORT
Welcome to a World of Excellence!
Only the finest ingredients for your delicate creations…
Whether you are a Chocolatier, a Confectioner, a Baker or a Pastry Chef;

Whether you work in Dairy, Ice-Cream & Desserts, Sugar & Chocolate Confectionary, Biscuit & Bakery, Breakfast & Snacking;


You can do more with our Chocolate, Fillings & Cocoa related
products, our Pastry & Bakery ingredients, our Decoration &
Accessories, and our specialized Machinery.