MACHINES & EQUIPMENT > JUICE MACHINES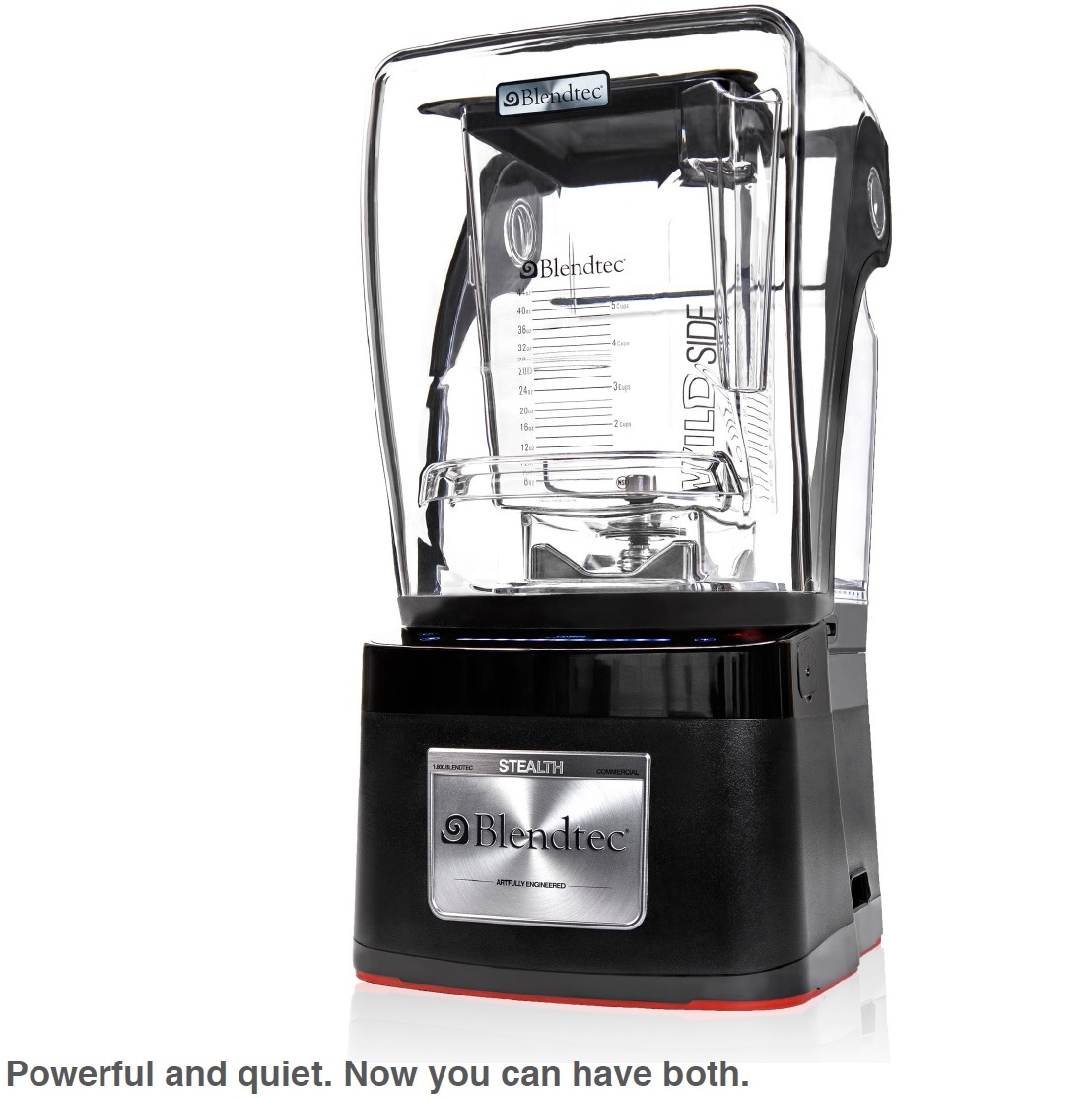 Product Code: BLENDTEC STEALTH BLENDER

Price per pack: 5200AED /-
Quantity :

Production Kg / Hour :
Cycle Capacity / Kg :
BLENDTEC STEALTH BLENDER
Powerful and quiet. Now you can have both.
Until now, it's been a trade-off. Foodservice operators had to choose between blenders that were powerful and those that were quiet. The Stealth blender offers the best of both. As the strongest, most advanced blender on the market, it can be used in
environments where low noise is critical.
240V / 9 amps
WARRANTY 1 YEAR
Motor drive socket:
Lifetime of machine
DIMENSIONS
W 8.6" (21.8 cm)
D 9.0" (22.9 cm)
H 17.3" (43.9 cm)
WEIGHT
16.2 lbs (7.3 kg)
CERTIFICATIONS
ETL NSF CE Models CQB1 & IQB1
Standard Features STEALTH®
Blend at the sound level of normal conversation.
A powerful blender is no good if its noise drives your customers away. The Blendtec Stealth boasts an industry-leading power, yet it's the quietest commercial blender in the world.
Advanced, illuminated touch control surface.
The Stealth offers an industry first: an illuminated, capacitive- touch control surface. It's highly intuitive and features a slider control for the most advanced, fine-tuned motor control ever.
Blend Wizard online programming tool.
You can now go online to create your own customized blend cycles. Add your own motor speeds and durations, and then download them to your USB device.
Versatile USB interface.
Keeping the Stealth updated and current with your latest menu programming is easy. Simply download the programming to a USB drive and distribute to all your blenders at the same time.
CONTROLS
– Capacitive touch illuminated control surface with speed slider
– Blue LED display
– 42 preprogrammed blend cycles
– Customizable blend cycles using Blend Wizard™ online app
QUIET
– Fully enclosed, easy-to-clean blending station
– Advanced sound enclosure blends at the sound level of normal conversation POWER CONTROL QUIET VERSATILITY
Additional Options
COUNTERTOP
– Can be used right out of the box with the included housing (Model CQB1)
– In-counter version available for installing directly into your countertop (Model IQB1)
Related Product
No, Related Products Here.
Welcome to Special Gourmet International
Special Gourmet International Gen. Trd LLC is a professional distributor of Food Stuff and Hotel and Catering Kitchen Equipment for renowned European brands in the hospitality industry. Our products are mainly classified under 3 categories:
1] HOTEL & RESTAURANT KITCHEN, PASTRY & BAKERY EQUIPMENT SUPPLIES
2] FOOD INGREDIENT (F&B
3] CONCEPT SMALL BUSINESS SUPPORT
Welcome to a World of Excellence!
Only the finest ingredients for your delicate creations…
Whether you are a Chocolatier, a Confectioner, a Baker or a Pastry Chef;

Whether you work in Dairy, Ice-Cream & Desserts, Sugar & Chocolate Confectionary, Biscuit & Bakery, Breakfast & Snacking;


You can do more with our Chocolate, Fillings & Cocoa related
products, our Pastry & Bakery ingredients, our Decoration &
Accessories, and our specialized Machinery.