MACHINES & EQUIPMENT > PLANETARY MIXERS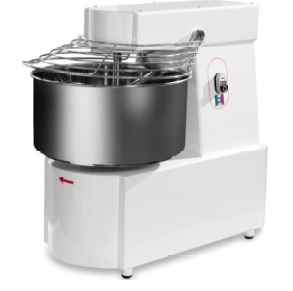 Product Code: REST-MIXER FIXED 7010141050

Price per pack: 8500AED /-
Quantity : ( 1 Pc) 109

Production Kg / Hour :
Cycle Capacity / Kg :
SPIRAL MIXER FIXED HEAD SK 50 MO
The Spiral Dough Mixer is the ideal equipment for working doughs for Pizzerias, Pastries, bakeries and families. The particular shape of the spiral allows you in few minutes to get a perfectly mixed dough. Bowl, spiral, dough breaker and bowl protection are made in stainless steel respecting the health rules. The Spiral Dough Mixer has a chain transmission system and gear motor in oil bath ensuring strength and quietness in time. The mixers can be equipped with: Mono/three phase motor, 2 speed three phase motor. Speed and motor with special voltage. All machines are guaranteed for 1 year against mechanical manufacturing defects.
Bowl volume: 48lt
Capacity: 43 Kg
Power: 2 Hp / 1,5 Kw / 400V /3PHASE
Weight: 109 Kg
Bowl Dimension: mm 450 x 300h
External Dimension: mm 495 x 800 x 798 h
Packaging Dimension: mm 535 x 840 x 990h
Optional in all models
Wheels COD. 7010100001
Timer COD. 7010100002
Related Product
No, Related Products Here.
Welcome to Special Gourmet International
Special Gourmet International Gen. Trd LLC is a professional distributor of Food Stuff and Hotel and Catering Kitchen Equipment for renowned European brands in the hospitality industry. Our products are mainly classified under 3 categories:
1] HOTEL & RESTAURANT KITCHEN, PASTRY & BAKERY EQUIPMENT SUPPLIES
2] FOOD INGREDIENT (F&B
3] CONCEPT SMALL BUSINESS SUPPORT
Welcome to a World of Excellence!
Only the finest ingredients for your delicate creations…
Whether you are a Chocolatier, a Confectioner, a Baker or a Pastry Chef;

Whether you work in Dairy, Ice-Cream & Desserts, Sugar & Chocolate Confectionary, Biscuit & Bakery, Breakfast & Snacking;


You can do more with our Chocolate, Fillings & Cocoa related
products, our Pastry & Bakery ingredients, our Decoration &
Accessories, and our specialized Machinery.